Our office, as well as the American Academy of Pediatric Dentistry, recommends that your child visit the dentist by his/her 1st birthday. You can make the first visit to the dentist enjoyable and positive. Talk to your child about the visit, reassure them we explain everything and answer any questions they may have. The less 'to-do' concerning your child's appointment the better.

PREPARING BEFORE
Before bringing your child to us for the first time, please prepare him or her for this new experience with some of these tips.
READ A BOOK - For young children, there are excellent children's stories which describe a visit to the dentist, Our personal favorites are Dora the Explorer - Show me your smile, A visit to the dentist, and Barney Visits the Dentist.
DISCUSS THE POSITIVE ASPECTS OF DENTISTRY - Convey good feelings to your child about dental visits being a part of growing up. Please do not say, " The dentist will not hurt you." Instead, say "The dentist is going to show you lots of new and fun things to make your teeth sparkle."
SCHEDULE THE BEST TIME - Morning appointments for little ones will catch them when they are most refreshed and most accepting of new experiences.
EXPECT THE BEST - Anticipate your child will enjoy their first visit to our office and chances are he or she will do exactly that!
HELP US PREPARE - As well as preparing your child for that important first visit, we must be thoroughly prepared for providing the best possible care for your child. Please be candid in providing us with ALL information pertinent to your child's dental, medical and social situation.

HOW ARE APPOINTMENTS SCHEDULED?
The office attempts to schedule appointments at your convenience and when time is available. The morning is an ideal time for preschool children, as they are fresh and often more comfortable during that time. School children who have a lot of dental work to be done should be seen in the morning as well. Dental appointments are an excused absence. Missing school can be kept to a minimum when regular dental care is continued.
Since appointment times are reserved exclusively for each patient we ask that you please notify our office 48 hours in advance of your scheduled appointment time if you are unable to keep your appointment. Another patient who needs our care could be scheduled if we have sufficient time to notify them. We realize that unexpected things can happen, but we ask for your assistance in this regard.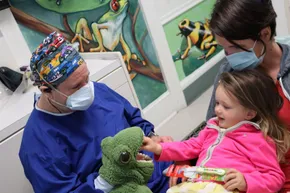 WHAT TO EXPECT
Parents and siblings are welcome in the treatment area. For children under age 4 we begin the important first visit by introducing ourselves and the office environment. Then, a thorough exam is performed. We believe in having the child determine the pace of the first visit, if your son or daughter is so inclined and ready we will perform a thorough cleaning, fluoride treatment and any necessary radiographs (x-rays) as indicated by your child's needs. After a thorough study of our findings we will prepare a treatment plan for your child's dental needs, your time constraints and budget.
WHAT IF MY CHILD CRIES? Please do not be upset if your child cries. Children can sometimes be leery of anything new. Crying can be a normal reaction. Please permit us the time to develop rapport with your child. We have been caring for infants, children, and teens for nearly 25 years. We have the skills, patience, and experience to help make happy kids with healthy smiles.
WHAT HAPPENS NEXT TIME?
Our purpose is to gain your child's confidence, overcoming any apprehension they may have. After their first visit, you may want to encourage your child's independence. Perhaps you want to allow our dental team the privilege of bringing your child back without you or their siblings. We often hear from parents that their child can't wait to return for their next appointment, because we have made them comfortable and at ease, while having fun and teaching them all at the same time!