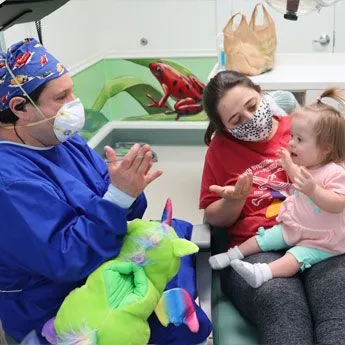 HAPPY KIDS. HEALTHY SMILES.
We know that your child's health and well-being is your #1 priority, and it's ours too! For nearly 25 years we have been caring for thousands of infants, children, and teens, from birth through college. We're proud of our expert team that cares in a comfortable and kid-friendly environment.
Our Mission is to provide the highest quality of pediatric dental care in a fun and comfortable environment for our patient and their families.
Our Vision - We want everyone to know we are the best pediatric dentist in this area providing the best dental care for infants, children, and teens.
Our Core Values include Excellence, Family, Integrity, Love, Caring, Fun
Excellence - The level of quality of care we deliver to our patients and their families.
Family - Everyone under this roof is a part of our family and we treat each other like so.
Integrity - We are always honest and stand on strong principles.
Love - Is what we give and feel with everyone who works with us, our patients and their families.
Caring - We are compassionate about each other, our patients and their families.
Fun - is what we have all day every day.